Google Travel Ads: Tools and partnerships to help travel recover and thrive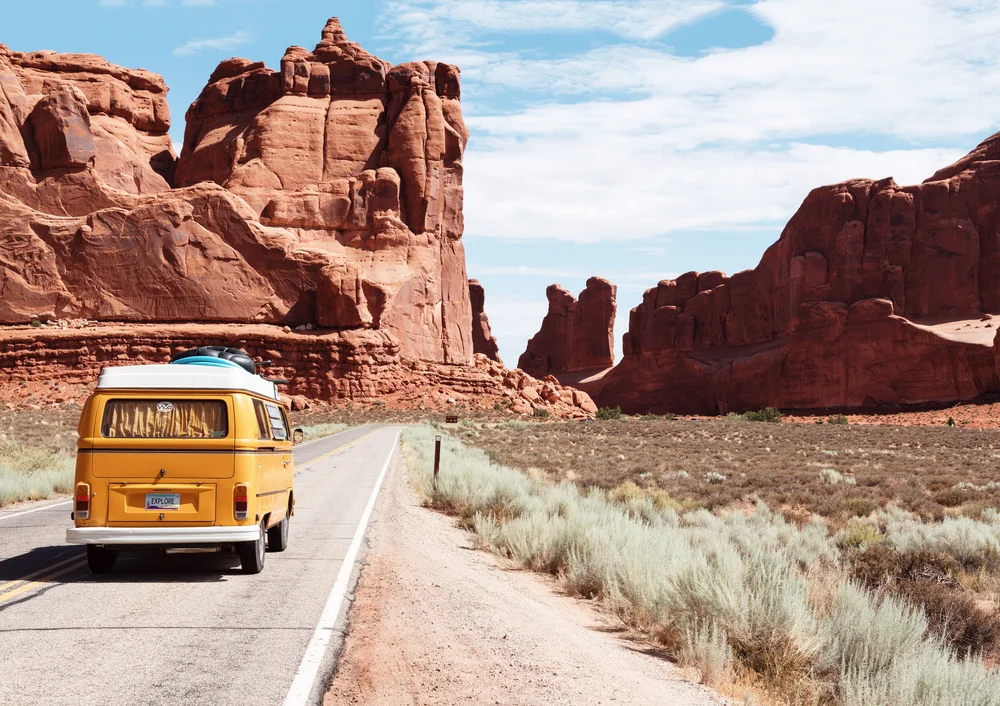 The travel industry is beginning to show promising signs of recovery as parts of the world reopen and vaccinations continue. We see from Google searches that people want to travel, provided they feel safe to do so: Global searches for "where to travel," "can I travel" and "covid travel restrictions" are near all-time highs. Google is working hard to listen to customer feedback and ensure travel businesses and tourism officials have the information needed to continue recovery.
That's why last December, we began testing Travel Insights with Google in the Asia Pacific region; it's a set of tools providing powerful insights into real-time travel demand based on global Google Search data. Today we're launching Travel Insights with Google in the United States, in partnership with Destinations International and Hospitality Sales and Marketing Association International (HSMAI). Together, we'll bring these tools to the travel industry in the U.S. and around the world with training materials customized specifically for destination organizations and hospitality marketing professionals.
Consumer insights to help accelerate recovery
There are two free tools available within Travel Insights with Google that provide rich data and actionable insights.
Destination Insights gives travel businesses, governments, and tourism boards a clear picture of top sources of demand per destination. This can help users understand where potential travelers may be coming from and adjust marketing campaigns accordingly. The second tool, Hotel Insights, helps hoteliers analyze search trends so they can understand where interest is coming from and attract new guests by creating a stronger digital presence.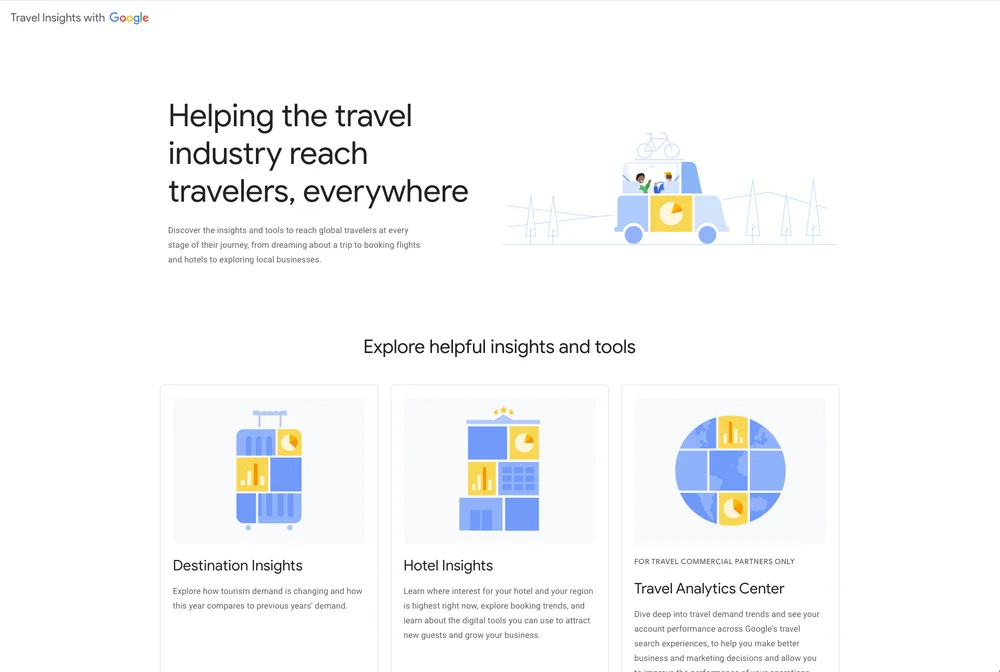 Travel Insights tool landing page
Since we began piloting these tools last year, they've helped government tourism officials in places like Singapore and Indonesia answer critical questions as they make decisions about border reopenings. As part of our ongoing global expansion, we recently launched localized versions of Travel Insights with Google in countries across Asia and Europe, including Spain, Greece, France, Italy, Croatia, China, India, Indonesia, Japan, Korea, Malaysia, Philippines, Thailand and Vietnam.
"As we enter into the recovery phase after the pandemic, relevant and timely data will be essential for destination organizations around the world as they will be required to respond intelligently and proactively on behalf of their communities. We are thrilled to partner with Google for this type of information that will help make our members successful."
—Don Welsh, President and CEO of Destinations International
"Partnering with Google on this initiative reinforces that what industry professionals need are insights, not just information. HSMAI members that are inspiring marketing will benefit greatly by having access to the exclusive expertise that Google provides on what today's traveler is searching for as the recovery picks up across travel and tourism."
—Robert A. Gilbert, CHME, CHBA, President and CEO of HSMAI
More actionable features
Based on feedback we've heard from our pilot partners, today we're also introducing new, helpful features within the Destination Insights tool.
Focusing Facts will allow users who visit Destination Insights to view a set of quick insights such as "Fastest growing destination globally," "Country with the most inbound interest" and "Top city in demand." Focusing Facts are based on the previous 84 days of data which provides a well-rounded vantage point.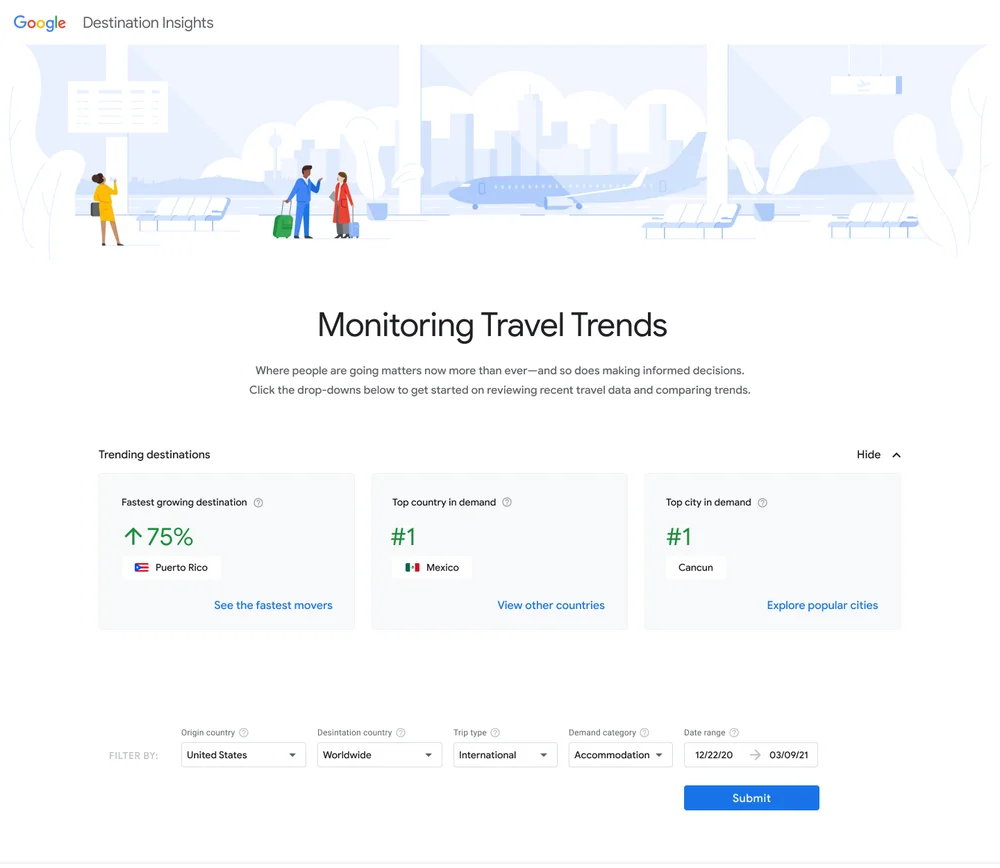 Focusing Facts tool within Destination Insights
The Demand Sizing Tool is a new section with distinct filters to compare inbound and outbound interest between one primary country and up to ten comparison countries.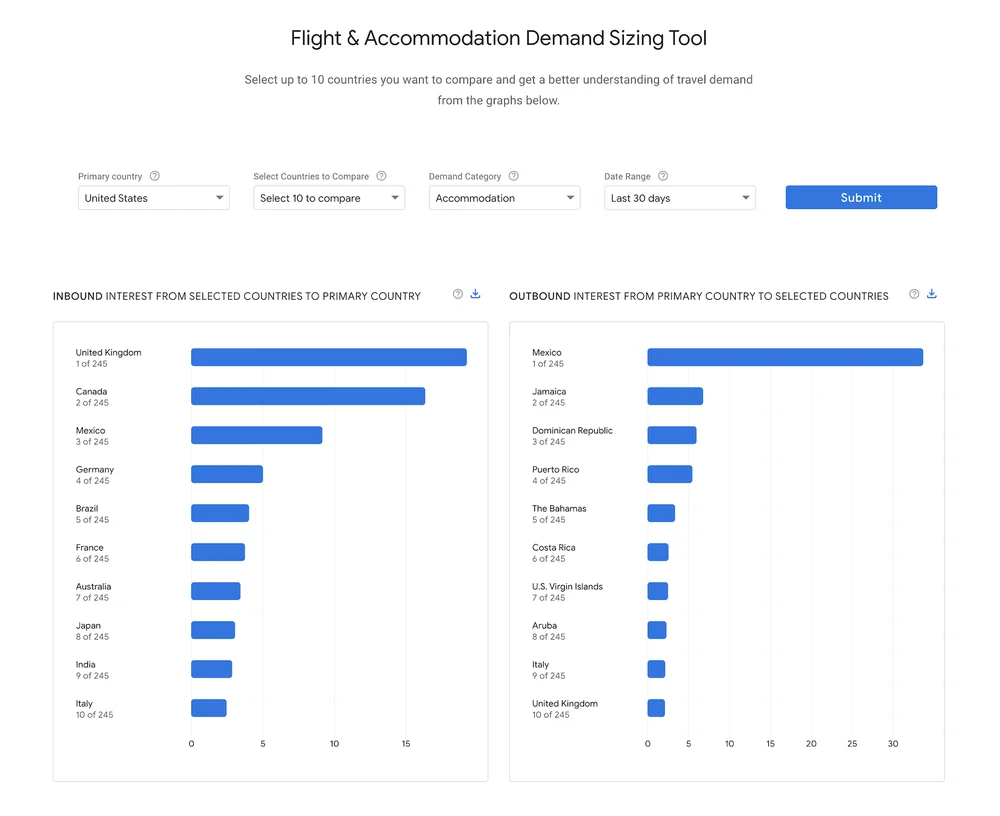 Demand Sizing tool within Destination Insights
Responsibly reinvigorating the tourism sector will take ingenuity and effort across the industry. We want to support travel and tourism professionals with the tools and insights they need to connect with people searching for travel. As we make progress toward recovery, we'll continue to seek to find new ways to support the global travel and tourism sector by sharing data and insights that can help the industry rebound.
Source: Official Google Webmasters Blog
Don't have time to manage your digital marketing campaigns, design your website and setup analytics scripts, or worry about which version of your ad generates the best ROI? That's OK! LAUNCH805 is here to help!
Call 805-570-1385 or contact us online today.