Google Ads: Turn Curiosity into Customers this Holiday Season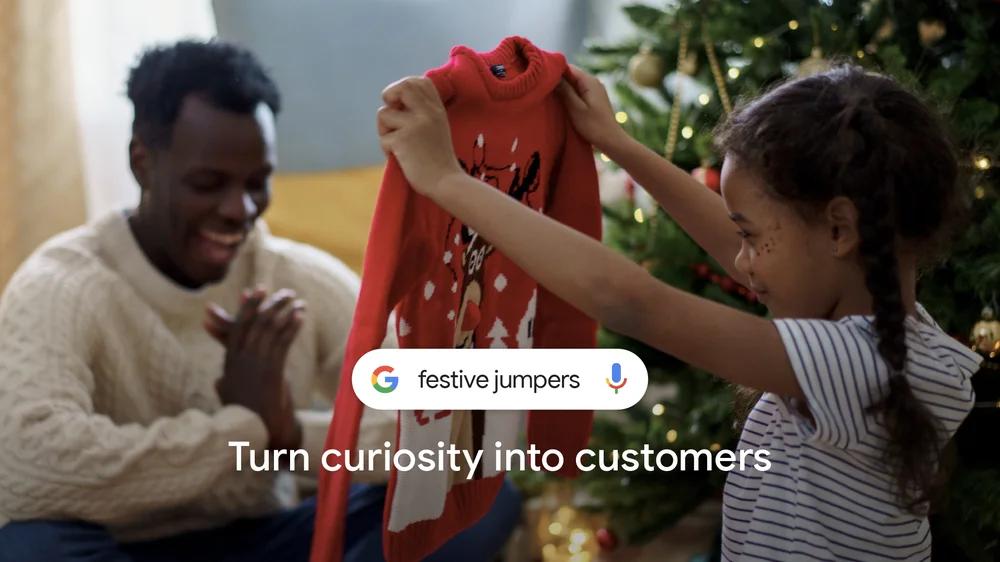 The holiday season is the most beautiful time of the year and, for retailers, it's also the busiest. This year has been particularly challenging for retailers and shoppers, alike, with the presence of global uncertainties like supply chain disruptions. Still, holiday shopping is poised to surge and retailers can turn to Google to drive sales.
This past holiday season, 54% of shoppers used five or more channels, like video and social media, to shop over a two-day period.1 With Google's full range of promotional channels, retailers can show up across the shopping journey and stay top-of-mind for consumers. Here are a few tips to set you up for success this holiday season.
For more holiday insights, tune into Think Retail on Air at 10 a.m. PDT later today and check out in-depth recommendations in our Holiday Best Practices guide.
Show up to the party early
The countdown is officially on as holiday shopping kicks off earlier in the year. In May, we found that, on average, 17% of consumers in surveyed markets have started their holiday shopping and more than a third (36%) say they already have ideas for gifts they are going to buy.2 Get ready to reach these shoppers with the following Google Ads insights and tools.
Make your grand entrance with demand forecasts on the Insights page. This predicts upcoming trends relevant to your business so you can adjust your budget and bidding strategy to capture growing demand. Additionally, use Performance Planner to understand how these changes to your advertising spend will impact your predicted clicks, conversions and conversion values.
Beyond optimizing your campaign settings, you'll also need to get your product feed in shape. Product-specific insights are now at your disposal at the account level in the Google Ads products tab. These insights let you spot underperforming offers, identify products with missing feed attributes and compare your bidding strategy with your top competitors'.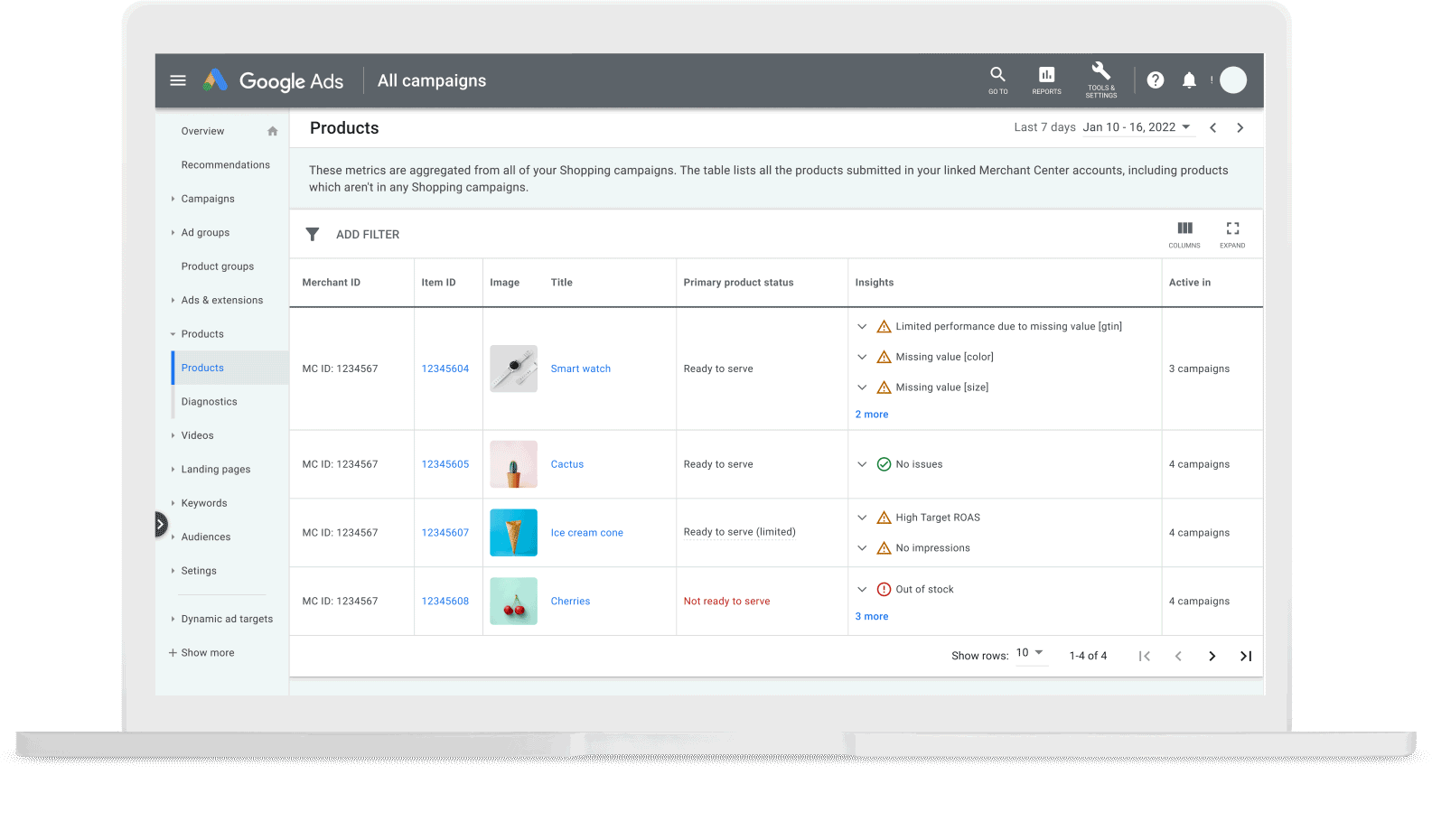 Make the rounds
With more ways to shop than ever, it can be difficult to keep up with complex purchasing journeys. Last holiday, we saw that shoppers who used at least five channels to inform their decisions and complete their holiday shopping reported making two times more purchases and spending twice as much, on average, compared to those who just used one or two channels.3 With the best of Google automation at your fingertips, you can stand out to shoppers across the full range of Google Ads channels.
It starts with Search where people conduct billions of searches every day.4 Maximize your reach by showing your ads to shoppers who search for terms related to your keywords using broad match and Smart Bidding. Then use responsive search ads to tailor your messaging based on shoppers' search terms.

Casetify used a combination of Search automation solutions to grow its online presence in Japan. Broad match helped reach new customers, responsive search ads served tailored ads and Smart Bidding optimized for the right customers. As a result, the company drove 14 times more conversions at a similar cost per conversion.
But Search is just one part of the equation. Complement keyword-based Search campaigns with Performance Max, which finds even more converting customers across channels like YouTube, Display, Search, Discover, Gmail and Maps.5 As the next generation of Smart Shopping and Local campaigns, Performance Max connects with your product feed to drive sales both online and in-store. Keep an eye out for seasonal templates launching this fall. They'll help you create video ads in a matter of minutes for Performance Max campaigns.

Gap Inc. is an established apparel and accessories retailer with a portfolio of recognized brands that include Gap, Old Navy, Banana Republic, and Athleta. Leaning into innovation, Gap brand was an early frontrunner to test Performance Max versus Smart Shopping campaigns on Google Ads, delivering an uplift of ~40% return-on-ad-spend (ROAS) for the Performance Max group. This successful testing has fueled an enthusiasm to expand Performance Max testing across their family of brands in Q3 2022 and to deliver the best experience for their customers.
Round off your advertising strategy by inspiring shoppers when they least expect it. For example, 60 percent of people say they often or sometimes get prompted to buy something even when they weren't actively shopping.6 You can now harness the power of your Google Merchant Center product feed with YouTube Video action campaigns and Discovery ads, which present new shoppable opportunities for your brand in moments of inspiration and discovery.

Burrow, a direct-to-consumer furniture company, launched Discovery ads with product feeds to acquire new customers and generate interest leading up to the holidays. Using visually rich content, Burrow achieved a 25% lower cost per action (CPA) and a 45% higher clickthrough rate (CTR) compared to its benchmark.
Finally, don't forget about your mobile-first shoppers. In the next 2-3 years, 68% of retail marketers anticipate increasing apps use as a primary means of increasing customer loyalty.7 Promote your app to shoppers across Google's largest properties such as Search, Google Play, YouTube and more with App campaigns and give users a seamless web-to-app purchase experience by setting up deep links.
Be scroll-stopping
Give shoppers a reason to turn from browsers to buyers wherever they may be. More than half a million online businesses use Google Merchant Center to show their products for free across Google websites and apps.8 Join them by listing your products on Google to unlock access to different levers that can make your products shine during the holidays.
More than half (55%) of holiday shoppers across surveyed countries are planning to hold off on buying gift items until they are on sale.9 Fuel demand by adding your sales and promotions early. The Content API is also now available to make it even easier for you to upload and manage your deals at scale.
Like last year, shoppers are still anxious about getting what they need in time where 3 in 10 consumers are shopping for things they don't need until later because of stock concerns.10 Keep stockings stuffed by adding estimated delivery times such as "Get it by 12/20", and help shoppers stay worry-free by highlighting your flexible return policies like "Free 90-day returns."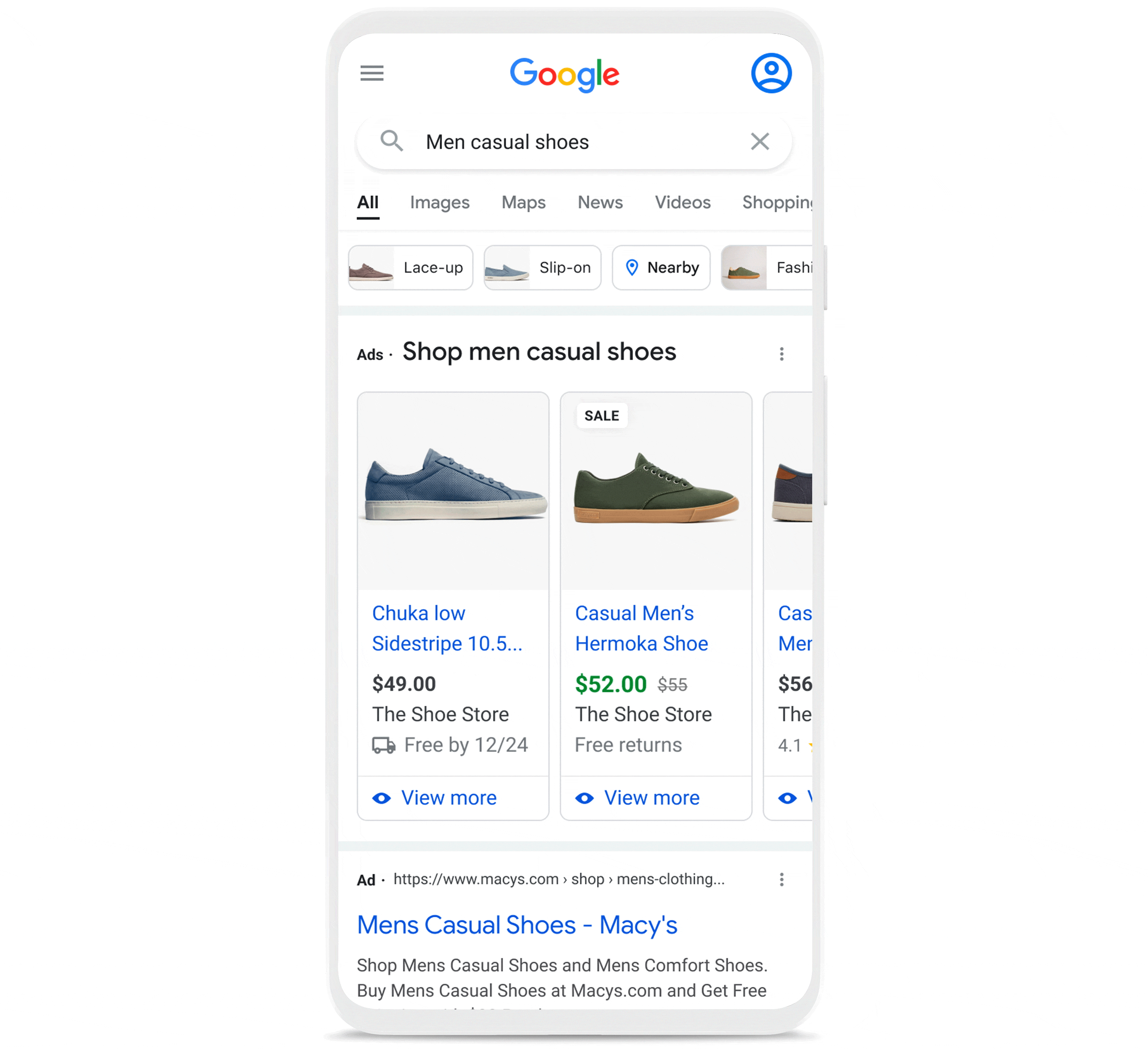 Take it offline
Your audience won't just be shopping online. In-store shopping has made a big comeback this year, as searches for "store open" have grown globally by over 400% YoY.11 Offering a seamless experience between brick-and-mortar and online shopping will be key to winning shoppers.
Make it easy for shoppers to find you by updating your Business Profile with store hours, location and images. Then grow in-store foot traffic and sales by promoting your location to online shoppers in the area with Performance Max campaigns for store goals, such as in-store promotions or seasonal specials. You now have more control over your Smart Bidding to meet your store visits or store sales goals this holiday season.
And for last-minute shoppers or shoppers who prefer to browse in-person, you can use local inventory ads to promote your in-store inventory online and convenient curbside or in-store pickup options.
Join the conversation at Think Retail on Air
We're here for you this season to help you hit your holiday milestones, so make Think Retail on Air your next stop to get more insights. We will be going live today at 10 a.m. PDT. For more recommendations, visit the Holiday Best Practices guide.

Source:  Official Google Ads Blog
Don't have time to manage your digital marketing campaigns, design your website and setup analytics scripts, or worry about which version of your ad generates the best ROI? That's OK! LAUNCH805 is here to help!
Call 805-570-1385 or contact us online today.