Improved Header Bidding Support in Google Ad Manager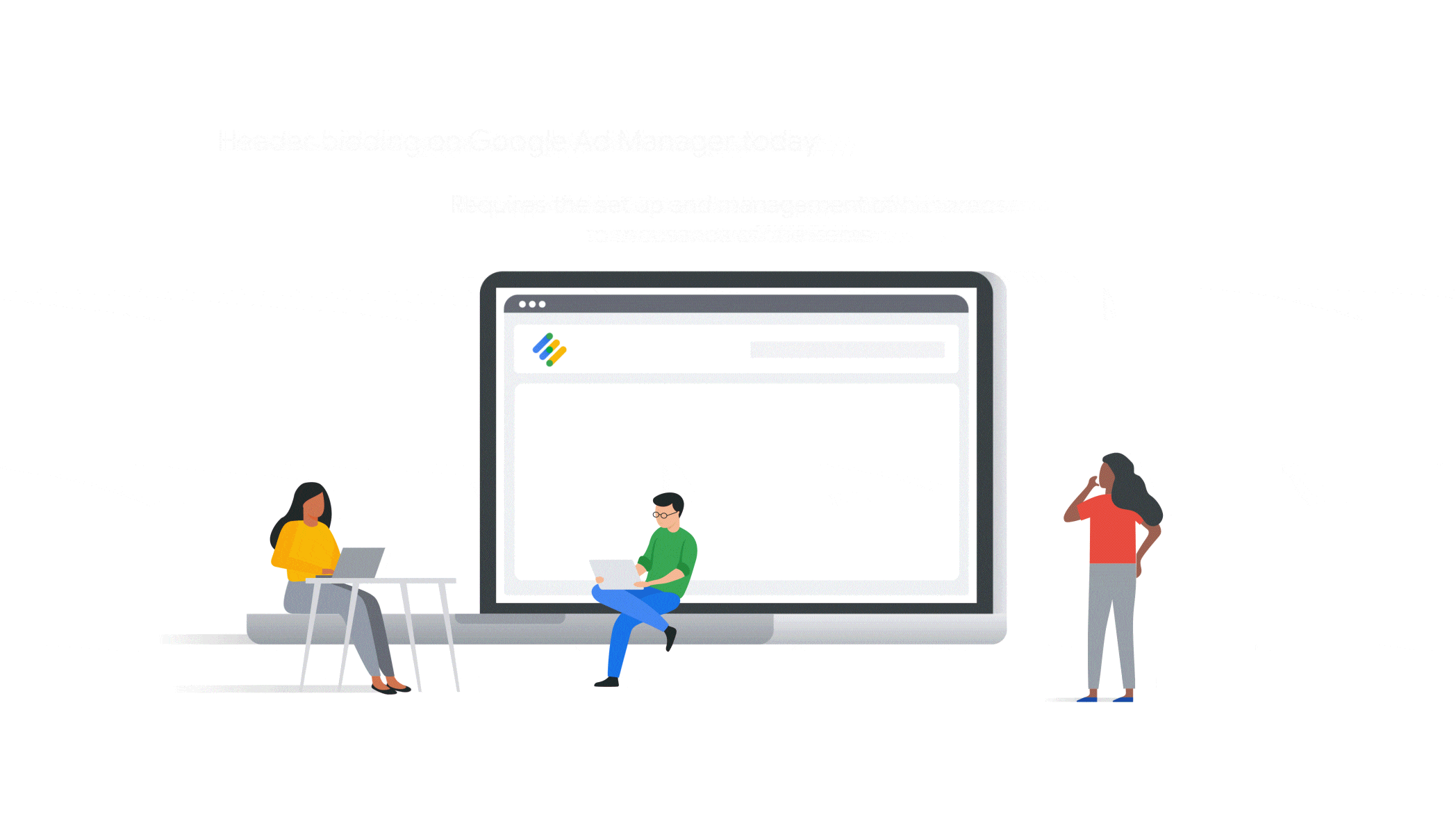 Publishers have a wide range of options to monetize their content online. That's why we've built flexibility and a variety of features into Google Ad Manager, giving publishers choice in how they sell ads on their properties. One way many of them choose to sell their inventory is through header bidding, which runs an auction among multiple ad exchanges on a user's device before calling the publisher's ad server. Today, about 90% of large publishers use header bidding,1 with many using a mix of header bidding and server-side solutions like Open Bidding to maximize revenue.
While Ad Manager has always enabled publishers to use header bidding, today we're introducing new features to improve header bidding support. These updates make it easier for publishers to manage the process and provide new insights on ad performance.
An easier setup process
The current process to set up header bidding can be resource-heavy and time consuming, requiring publishers to set up and manage hundreds to thousands of line items and ad creatives. To simplify this, we've developed a new way for publishers to set up header bidding through yield groups.2 In just a few steps, publishers can make their ad space available to header bidders — similar to how they can specify what ad space they want to sell with Ad Exchange or Open Bidding. The header bidding demand is then included in the unified auction.
Over the past few months, we've been working with publishers to test this optional feature and incorporate their feedback into the development process. Over the next couple of weeks, we will open this beta to more publishers and move to open beta this summer.
"The new workflow has made our process of setting up header bidders significantly simpler, allowing our team to focus on more strategic work."

Evan Pfeffer, VP Programmatic Solutions, Bustle Digital Group
"Using Ad Manager's yield groups for header bidding solves for the complex setup and maintenance issues when using an independent auction like Prebid. It's a strong feature and should be considered by any publisher who is intimidated by the technical aspects of header bidding."

Steve Mummey, SVP Digital Ad Revenue & Technology, AccuWeather
"It's been great to partner with Google to test its improved support for header bidding in Ad Manager. Google Ad Manager and Prebid are both important to our business. This enhanced communication between them is an exciting development, and we anticipate this feature will simplify set up work for our ad operations team."

Patrick McCann, SVP Research, CafeMedia
"We are excited to see Google making strides towards simplifying the header bidding workflow; it's an important step for our industry and one that gives publishers the power of choice. We look forward to working with the team to ensure our publisher partners are able to take advantage of this solution, save time and resources and ultimately drive higher yield."

Mike McNeeley, SVP Product, Index Exchange
Improved reporting for all demand sources
We've been working on additional reporting features to give publishers greater insights on header bidding performance. A few months ago, we introduced a new type of Data Transfer file, which shows publishers the amount buyers would have needed to bid in order to win the auction.2 This allows publishers to share data related to outcomes from Ad Manager auctions with all buyers they work with, including their header bidding partners.
We're also developing a new reporting feature to provide greater performance insights to publishers who continue to use line items to set up header bidding. Over the next few weeks, we'll release demand subchannel reporting. With this new feature, Ad Manager will automatically detect which line items are being used for header bidding — allowing publishers to more easily compare header bidding performance alongside their other demand sources.
Greater choice and control for publishers
We strive to give our partners flexibility and choice to best support their business goals. That's why Ad Manager has always given publishers the option to integrate with the advertising technologies they choose, and we continue to focus on evolving our platform to meet our partners' needs.
As part of an overall resolution of the French Competition Authority's (FCA) investigation, we've been working with regulators and publishers to develop these features, making it easier to make use of data and use our tools with other ad technologies. While we still believe header bidding presents drawbacks such as latency and a poor user experience, among others, we remain committed to providing publishers with choice through product interoperability.
We look forward to continuing to test and build on these features with publishers over the coming months, and sharing progress along the way.
Source: Official Google Ad Manager Blog
Don't have time to manage your digital marketing campaigns, design your website and setup analytics scripts, or worry about which version of your ad generates the best ROI? That's OK! LAUNCH805 is here to help!
Call 805-570-1385 or contact us online today.