6 Gmail AI features to help save you time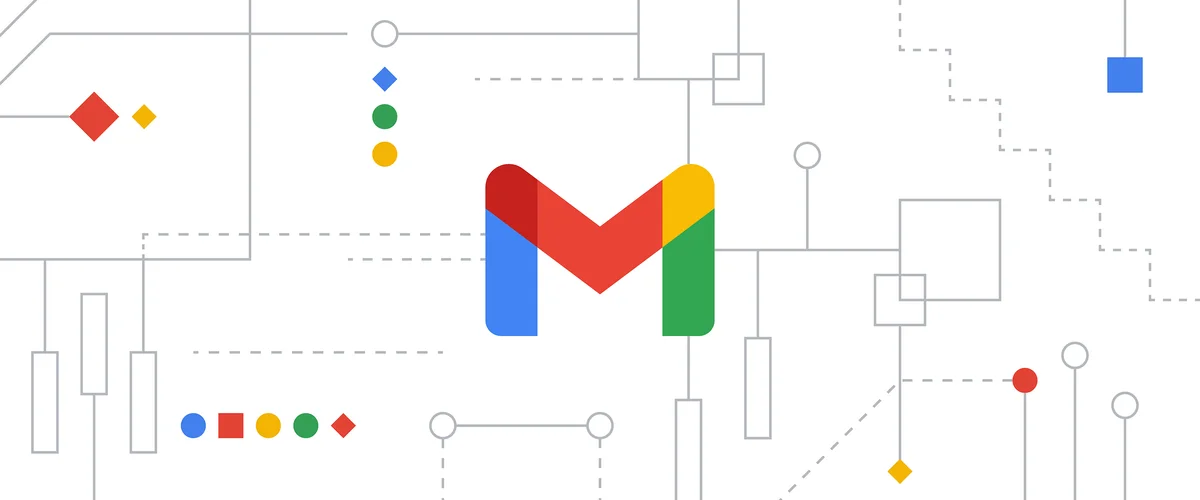 At I/O this year, we announced ways we're making AI more helpful for everyone. That includes rolling out our new "Help me write" feature in Gmail to users in Workspace Labs to make composing emails easier than ever. But that's just the latest AI update on the Gmail front. All Gmail users already have access to a host of other AI-powered features — and have, in some cases, for years. "Gmail has a long history of using the power of AI to help users in all aspects of their email journey," says Chao Wang, a software engineer on the Gmail intelligence team.
Here are six AI-powered features that make Gmail more helpful across a wide range of tasks, from managing incoming mail to helping craft replies.
1. "Help me write"
"Help me write" can create entire email drafts for you based on simple prompts. It's currently available as part of the Workspace Labs program, and you can sign up online and express your interest in joining the program here. Once you have access to the tool, you'll see the "Help me write" icon when you go to Compose a new email in Gmail. Look for the star with a pencil, and add a prompt explaining what you'd like your email to be about — maybe you'd like to ask a friend for book recommendations, especially thrillers set in picturesque locales. Whatever the case, once you hit "Create," you'll see a full draft based on your prompt. Choose "Insert" or check out the "Refine" button to make some tweaks — you can select options to make your email more formal, more elaborate or shorter, depending on your needs. You can even try "I'm feeling lucky" to see what tone "Help me write" comes up with. Gmail has also recently added the ability to pull details from your previous thread to help fill in contextual gaps.
"Help me write" uses generative AI large language models to interpret your prompt and decide what combination of words best represents your request. And this new technology builds on past generative models we've used for Gmail's Smart Compose and Smart Reply features — keep reading for details on those, too.
2. Smart Compose
Smart Compose is great to use when you aren't looking for help writing an email draft from scratch, but you'd still love some suggestions along the way.
This feature uses a hybrid language generation model and runs it on Tensor Processing Units (TPUs) to show wording suggestions. A simple tap of the "Tab" button accepts the suggestion and incorporates those words into your email draft without you having to fully type them out.
And while one Smart Compose goal is to help users write more efficiently, the feature can also come with a big bonus for some people. "English isn't my native language, so I use Smart Compose to learn new phrases," says Chao. For all other language-learners out there, know that Smart Compose is available in English, Spanish, French and Italian.
3. Smart Reply
Imagine getting an email from a friend asking if you can make it to their party this Saturday — right before you jump into back-to-back meetings. Now, imagine you can send an answer to your friend in seconds without typing anything.
That's Smart Reply in a nutshell. This feature can generate up to three possible responses to emails you receive. With two clicks or taps, you can select and send your response.
Smart Reply uses advanced machine learning technology like deep neural networks, which is when a computer learns to do something based on past examples, to identify an appropriate set of potential replies from a large set of diverse, nuanced responses. This means that instead of simple replies to your friend's invite like "Yes," "No" or "Maybe," you'll see more nuanced options like "Sounds great, count me in," "Sorry, I can't make it tomorrow," or "Awesome, I'll be there!"
"The Gmail team conducted a user study and found that typing even those kinds of replies is actually a little time-consuming," says Chao. "So we thought that was a good opportunity for us to do something to help."
4. Tabbed Inbox
Your inbox should be easy to navigate — not a maze of clutter to dig through. That's where the tabbed inbox comes in. Gmail tabs rely on a classification system that uses machine learning to decide where an email should go based on different signals, like who sent the email. The messages then go into one of five different inbox tabs: Primary, Promotions, Social, Updates and Forums. (You can use as many or as few of these tabs as you want.) This allows you to easily view the messages you often want to see first, and automatically filter those that you can save for later. What's more, if a message appears in one tab that really belongs in another, you can drag that email to its right classification to help train the model on your personal preferences.
To automatically categorize these emails, Gmail uses a combination of neural network-based machine learning and heuristic algorithms (heuristic algorithms use AI-generated decision trees to make choices). To respect user privacy, our algorithms learn how to categorize emails from a lot of aggregated and anonymized information. "We make sure that the system does not learn from individual data or from a specific user, but from aggregated data inputs, unless you give your explicit consent as the user," Chao says.

5. Summary Cards
Summary cards are the answer to those moments when you get a message with a lot of information, but you only need a snippet of its content. "Think, for example, flight ticket reservations. It's very likely that you're only interested in knowing information like the day and hours of your flights," says Chao. Or maybe you made an online shopping purchase and would prefer to see everything you ordered at the top of your confirmation email, rather than scrolling through.
Using heuristic and machine learning algorithms, summary card technology automatically looks for certain data from inbound emails to understand what type of message it is and the most important content in the message. Then, instead of having to scroll through all that information yourself, this feature will display an information card at the top of the message with the most important details, like your flight dates and duration or the names of the items you ordered. In addition to travel and shopping confirmation emails, you might see summary cards at the top of confirmation emails about hotel bookings, restaurant reservations, ticketed events like concerts and Google Calendar invites. (And when it comes to those Calendar invites, you'll have the ability to change your response and see what other events you've got that day, right from the summary card.)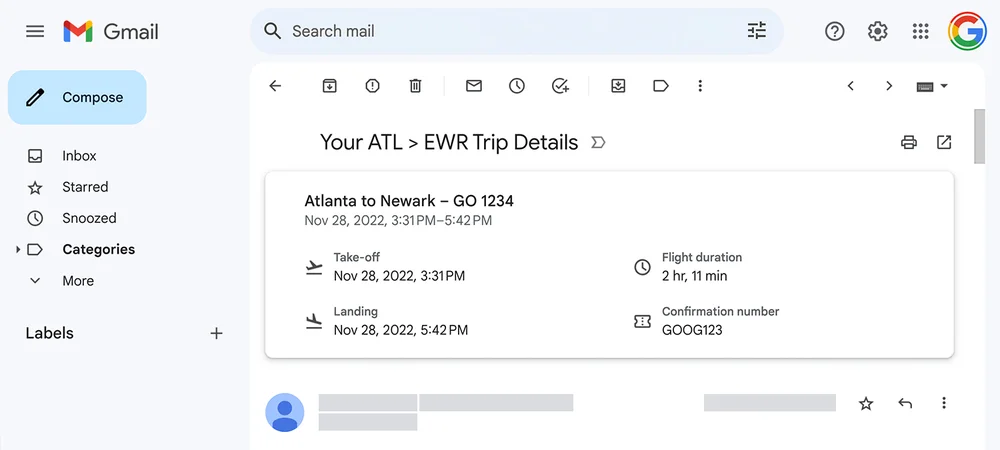 6. Nudging
If you've never forgotten to reply to an email, you might be a one-in-a-million type of person. For the rest of us, there's Nudging, which reminds you to reply to or follow up on important messages. Nudging is the first Gmail AI feature that runs on both emails you have received and sent, says Chao, and it's also his favorite Gmail AI feature for a relatable reason: "It helps me discover a lot of missed emails," he says.
For inbound emails, Nudging uses a machine learning model to detect which emails you haven't replied to and predict which of them you'd normally answer. After a few days, it will automatically bring the message to the top of your inbox with a note saying you received it three days ago and asking if you want to reply.

Nudging is also able to remind you of outgoing messages you haven't heard back about. "If I send someone an email and it's been more than three days without a response, Nudging reminds me with a notification in my inbox asking me if I want to send them a follow-up, basically to make sure things stay on track," says Chao.
Source: Official Google Blog
Don't have time to manage your digital marketing campaigns, design your website and setup analytics scripts, or worry about which version of your ad generates the best ROI? That's OK! LAUNCH805 is here to help!
Call 805-570-1385 or contact us online today.